30+ Restaurant mission statement examples
If you are in the process of creating your online presence, then these Restaurant mission statement examples will come in handy. Copy/paste them or use them as an inspiration/template to craft vision statement for your restaurant.
Restaurant mission statement examples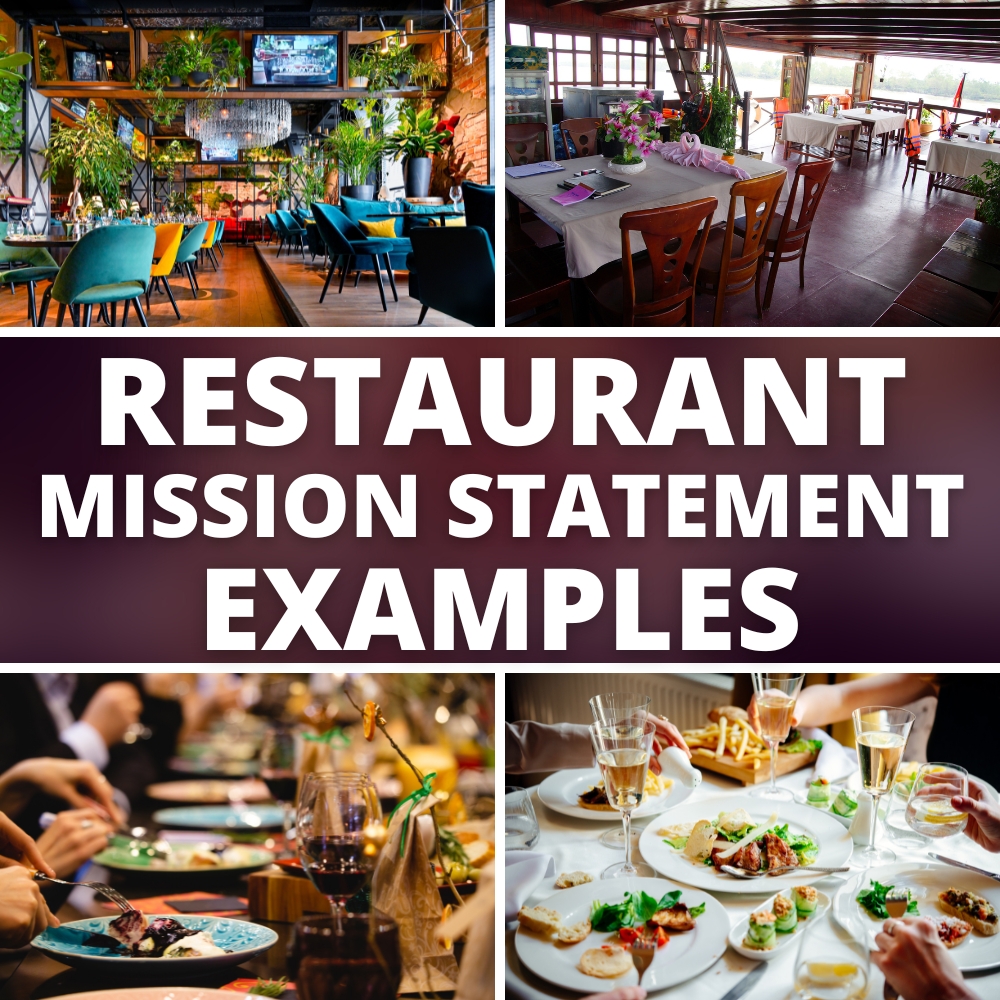 1. Our mission is to be financially successful through great people consistently delivering outstanding food, drinks and service in an inviting atmosphere, making every guest loyal. To exceed each and every one of our customer's expectations. 
2. Our mission is to serve exquisite and authentic (region) cuisine representing our cultures and legendary culinary gastronomy with typical dishes with a creative and talented touch, delivering a distinctly unique dining experience to fulfill our guest expectations.
3. We prepare and serve high quality, simple food, at a great value, in a home-like environment. Changing the way people eat, inspiring a shift within the restaurant industry and beyond. Creating an environment where absolute guest satisfaction is our highest priority.
4. Our mission: Going back to basics. Connecting flavors with the community through culinary traditions and culture. Fostering creative, community-based solutions to overcome food insecurity, isolation and hardships in the lives of our neighbors.
5. Our mission is to share our love of authentic BBQ, inspired by regional classics throughout the (region) prepared and smoked daily in our smokers. Making sure you're eatin' good whenever you step into (restaurant). Opening hearts and minds, one story at a time.
6. (restaurant)s mission is to provide a restaurant that serves locally grown food with amazing taste, at an affordable price, where all can enjoy the flavour of community. Making uncompromising craft beer that we love. Inspire loyalty in both our guests and in our staff. 
7. Our mission is to capture the character of our community, boiling down its stocks, foraging its plants, and showcasing its produce; all in an attempt to capture a time and a space in the confines of a plate, but more often in a series of plates. Absolute guest satisfaction. 
8. (restaurant)s mission is to provide our guests with the most authentic (regional) experience outside of (region). To provide the community with fresh, locally sourced, top quality food and service in a friendly casual environment to remind you the little fish eat like a shark too!
9. Our mission is to provide our guests with a comfortable, quality, and satisfying dining experience using local, seasonal ingredients in classic dishes paired with select wine. Serving REAL food that tastes, looks, and smells delicious. 
10. Our mission is to delight every guest with remarkable dining & hospitality experiences that keep them returning. Enhance and educate the palate with the freshest ingredients and flavors, while surprising and exciting each guest with personal care and service.
More Restaurant mission statement examples on the next page…