15+ Restaurant Description Examples
We gathered these Restaurant Description examples for those who want to save some time on writing their own about us page for the website. Simply copy and paste them and you are good to go.
These amazing restaurant description examples will help your venue stand out from the crowd and bring you more customers. If they are not perfectly suitable for your restaurant, you can also use them as a sample to quickly write your own.
Legend for restaurant description examples
Restaurant name – RN
City name – CN
Type of food – TF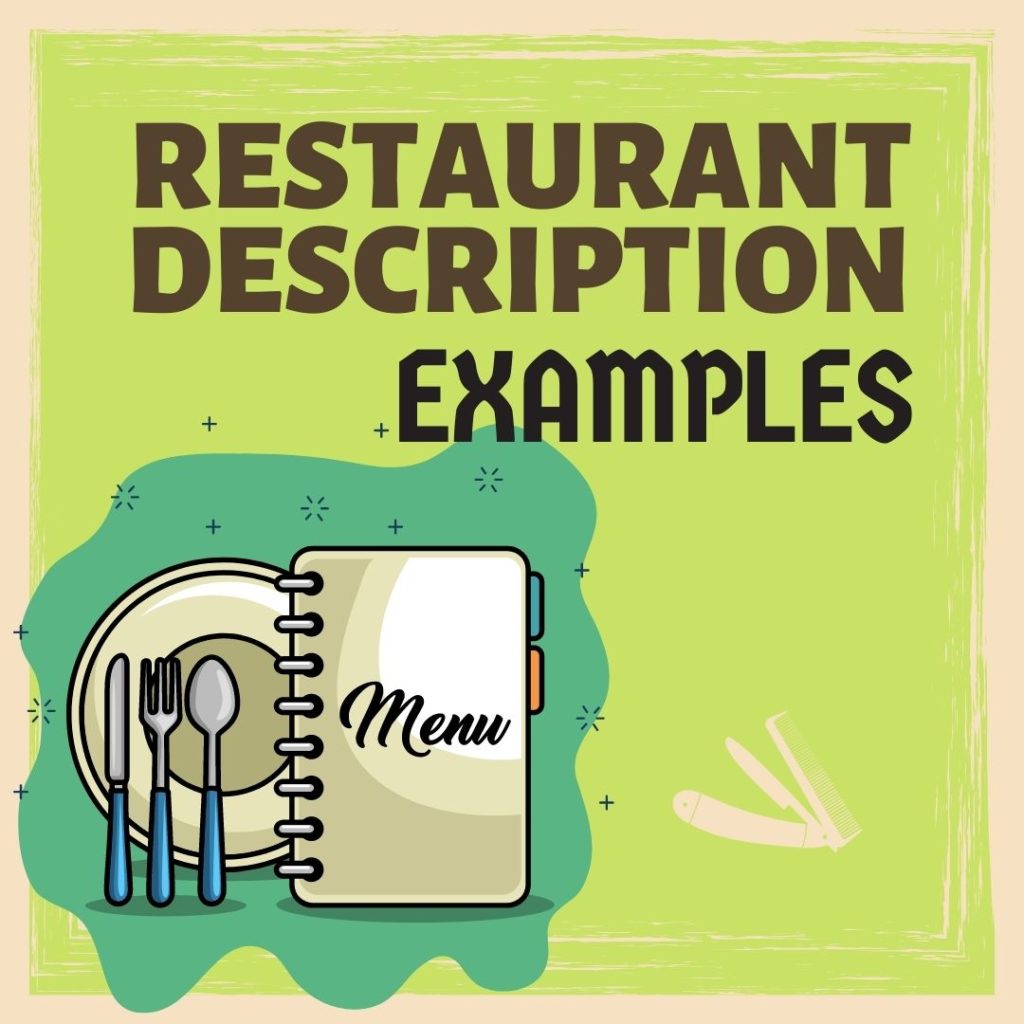 Restaurant description examples
01. All of our menu items are inspired by _____ cuisine and have been created by our head chef, (CN), after studying authentic _____ cuisine in ____. Not only do we have fresh flown-in seafood from the northeast, but we also have a variety of handcrafted cocktails, wine, and beer to choose from.
Come dine with us & experience an authentic ______ meal in an intimate dining space. We look forward to serving you!
02. At (RN), we're serving up more than (TF). In fact, (RN) Famous (recipe) is one of our unexpected specialties. Reminiscent of butcher shops back in the day, each slow-smoked, sizzling prime chop measures seven-fingers high. Our signature recipe, that we have perfected for more than four decades, is rubbed with a secret blend of seasonings, cured and roasted on a rotisserie with pecan wood for up to six hours before it's topped with (RN) signature herb-garlic butter, then carved tableside.
03. (RN) specializes in delicious food featuring fresh ingredients and masterful preparation by the (RN) culinary team. Whether you're ordering a multi-course meal or grabbing a drink and pizza at the bar, (RN's) lively, casual yet upscale atmosphere makes it perfect for dining with friends, family, clients and business associates.
04. The approach to the menu was easy. We had no interest in trying to reinvent food. We went with choices that were popular catering requests — basic, down-home style — just from a wide range of regions. We are known for our generous portions of BBQ, Southern, Cajun/Creole meals, plus a touch of Caribbean fun. We will tell you now – save room for dessert! 
05. (RN) is a comfortable, brasserie-style restaurant offering everything you love about ___ cuisine without the attitude. (RN) features classic ___ dishes such as ____ and ____, as well as fresh salads and juicy hamburgers made with fresh-ground beef.
06. (RN) combines flavors & inspiration from the Far East & the West to create what we think is the best! Home to the original (recipe), we specialize in pizzas, as well as handmade appetizers, sandwiches, salads, and gluten friendly, vegetarian, & vegan selections. Feel free to indulge in a tiki drink or craft beer with our fantastic unique cuisine. Cheers!
07. (RN) pushes the envelope of (CN) cuisine. Taking its influences from our team members' culinary roots, (RN) blends traditional and innovative techniques to create unique offerings using local ingredients in all of its dishes. (RN) is grounded in hospitality with our staff's commitment to providing you with a memorable experience each time you walk through our door.
08. (RN) offers menus for Lunch and Dinner. The restaurant has a Latin atmosphere with Latin American ornaments and music. Within a year of its opening, (RN) has been recognised for its quality of food and excellent service.
09. Savor a flavor at (RN), a brand-new ____ restaurant in (CN). Whether you're in the mood for something spicy or sweet, we've got a huge range of authentic ____ cuisine available on our menu—all deep fried to perfection. We're excited to bring something new to our community and can't wait to share our unique recipes.
10. Located at _______. We offer a wide array of fresh food – green pork plate, chimichangas, hamburger, barbacoa plate, pizza, salads, bbq with rice and beans and more. We use the freshest ingredients in preparing our food to provide the best quality and taste. Try our delicious food today! 
11. (RN) is a wine bar and restaurant for the curious—from casual drinkers to savvy connoisseurs. Our obsessively curated list and complementary food menu is designed to start a conversation, because there's really no wrong way to drink wine… except in bad company.
12. We are a tight-knit, fun-loving, devoted team of local cooks spreading the gospel of good times and good food in (CN).  We offer limited capacity onsite events in our restaurant kitchen space. And worry not, our krewe will travel to your destination of choice – from hotel ballrooms to private kitchens – to entertain groups of all sizes. We cook, we tell stories, we deliver informative culinary demonstrations and lectures, but most of all … we treat every event like you're a guest at our dinner table. Join us!
13. (RN) is a Contemporary Creole restaurant creating unique dishes with a focus on local ingredients and inspired by classical training. Located in a (LN) in (CN's) Central Business District, the main dining room caters to the most unique dining experience. The interior is rich with original architectural details, gleaming hardwood floors, soaring columns, mahogany paneling and antique mirrors.
14. (RN) Bar and Restaurant, established in 2000 on ____Avenue, is the flagship of the ___ Restaurant Group. The kitchen is overseen by Chef de Cuisine (Chef name) who works closely with local farmers and fishermen, offering contemporary, seasonal local cuisine with elements of rustic Italian cooking. An eclectic wine list and a knowledgeable staff make for perfect pairings.
15. We believe in the commitment to our community and in fostering long term relationships with local farmers and fishermen. Our menus reflect these connections, featuring local, seasonal produce and sustainably sourced seafood and meats.