20+ Good School Review Examples
Maybe this reviews post is one of the most important for the future of our kids. Parents spend days if not months, searching the web for schools for their children, and part of that search is reading reviews. Our well crafted Good School review examples will make the job easier to those that need to write one.

Reviews are important. The more reviews the school has, the better. This is making the search easier, but also gives safety to new parents. By seeing good feedbacks, they build trust before even visiting the school.

Negative reviews are the protection, but those feedback in another article.
Legend for Good School Review Examples
Principal name – (PN)
School name – (SN)
Teacher name – (TN)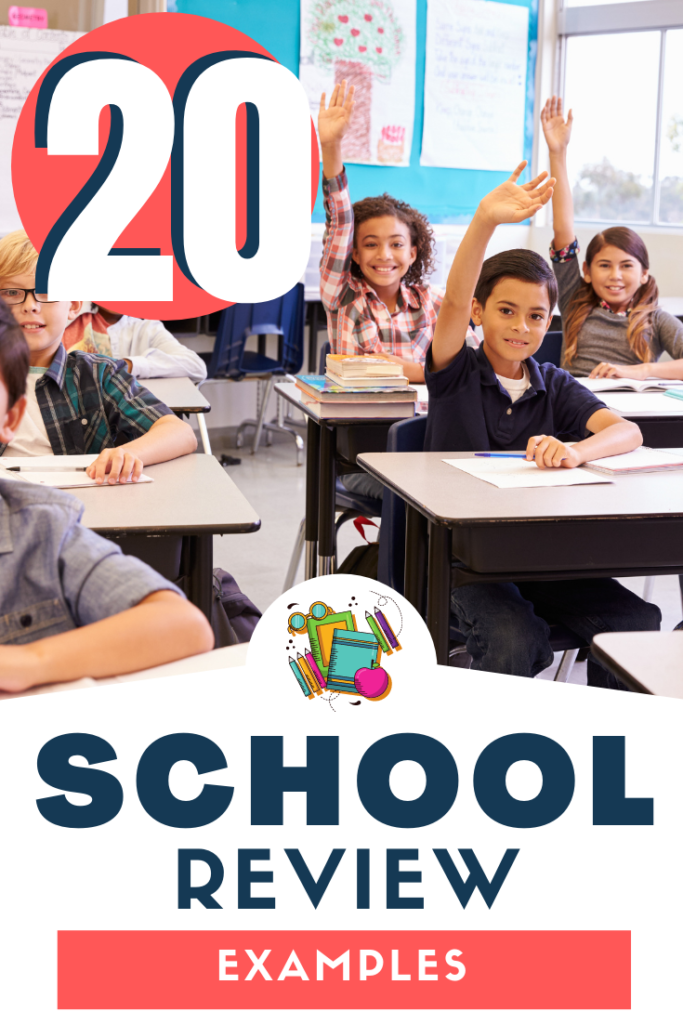 20+ Good School Review Examples
01. I attended this school nearly a decade ago and have only great things to say about my experience. The teachers are amazing, the curriculum is second to none and each child is treated with care.

My son is attending this school as well. If you have any doubts please go and see (PN) and she will put you at ease. I am blessed that some of the same teachers who taught me are teaching my children as well.
02. My daughter has attended (SN) for three years now. She absolutely loves the school and the staff. Her teachers are a great encouragement and and the academic program is great.
03. My children LOVE this school – from the teachers to the students to the challenging curriculum. (SN) integrates compassion into their teaching standards, emphasizes the importance of values, and builds leaders through each of their classes and lessons.

Though it is a small school, it allows for a lower student to teacher ratio, giving children more confidence when asking questions, engage in group activities, and opportunities for one-on-one time with the teachers.

Teachers are passionate about seeing their students succeed. They are so great about sharing moments of pride they see within your child – their good behaviors and achievements; and they know the importance of getting the parents involved should an issue arise, and do it in a very respectful, approachable manner.

Great team – great school!
04. Our experience at (SN) has been exceptional. The teachers are truly invested in my children's education and their growth as learners. Adjustments are made as needed to meet the needs of the student. Small class sizes and leveled learning have enabled my children to gain confidence in their learning abilities.

The administration is open minded and think outside the box to make (SN) a successful educational experience for the students. (SN) is committed to the whole child. They teach value lessons, communication and leadership skills.
Patriotism is also present in their activities. (SN) Education has been a very positive experience for our family.
05. My son, like all children, was born with a "love of learning". As he started progressing in the school district, he became bored, complacent, and restless. His "love of learning" quickly deteriorated and began to manifest as behavioral issues that included acting out and apathy toward learning.

The answer was simple. Find a school that challenged him enough to feed his "love of learning", acknowledge his individuality, and guide him to "do the right thing".

I found this in (SN).

(SN) brings out the best in every child by tapping into their individual strengths, while creating an environment of kindness, responsibility, and leadership. Our family is so grateful for our (SN) family.
06. Great school!!! My kids are very happy to be at this school. Teachers are very nice and helpfull. This school is home for our family.
07. My daughter went to this school from grade school through 8th grade. She is now in high school. We are so grateful that she was able to be at (SN) for those years. She learned valuable leadership skills while learning at her own pace (no cookie-cutter education there!).

If you want to give your child(ren) a stellar education while they are nurtured to be their best, most confident selves then I encourage you to seek out this school.
08. Smaller class sizes, teachers who care, and my daughter actually likes to learn at (SN). Wonderful with special needs. Catered to the needs of your child. More affordable than other private schools. Go check them out!
09. I feel so comfortable and at ease with taking my daughter to (SN). Its a lovely place. It is sparkling clean and tidy at all times of the day. It smells so plesant. I would be willing to bet that it has the biggest outdoor play yard of any other daycare/preschool in the city.

The teachers such as (TN) are engaging, lively and energetic. She is patient and encouraging with both kids and parents.

If you are looking for a place for your child in this general area, I highly recommend you stop in for a tour.
10. The teachers are super sweet and amazing. I've never worried about might son while he's under their care and guidance.
More Good School Review Examples on the next page…