10+ Teacher About Me Examples
We have created these Teacher About me examples for those who want to save some time on writing their own introduction for their profile or resume. You can simply copy and paste them and the job is done in seconds.
These amazing teacher about me examples will help your profile stand out from the crowd and bring you more students. If they are not perfectly suitable for your profile, you can also use them as an inspiration or as a template to quickly write your own cool teacher introduction.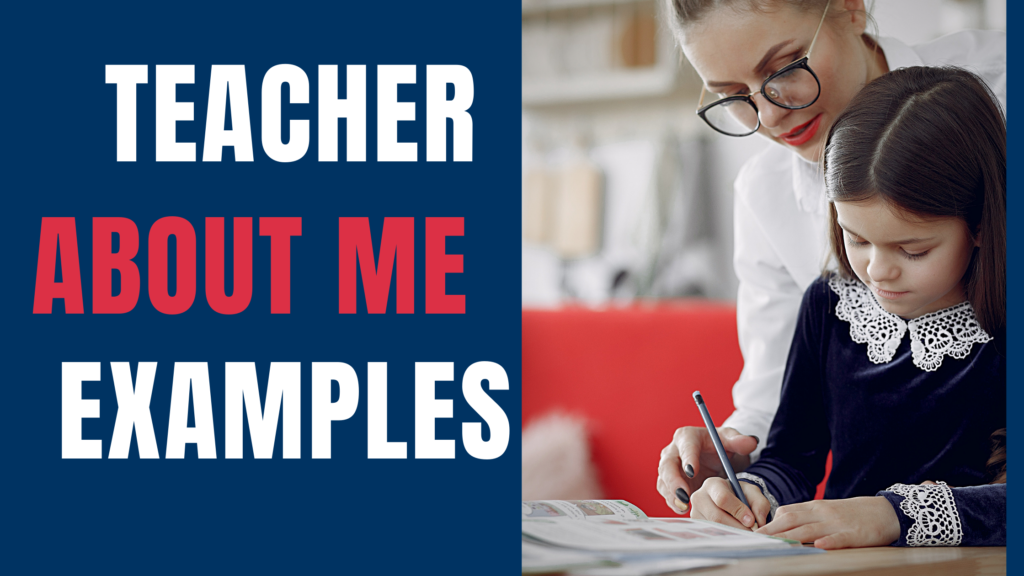 Bellow you will find 10+ Teacher About Me Examples
01. I am reliable conscientious and dedicated. I am open minded and tolerant of all customs, values and traditions. I am patient and polite and do not mind working through things in a caring encouraging way with students. I strive to be prompt and efficient in my teaching methods. I also like to remain approachable. I do not want to make my students feel that I am judgmental or critical rather that i am encouraging and supportive.
02. My lessons are always lively, filled with enjoyable activities and most importantly my lessons are beneficial to my students. I use various teaching methodologies, props, flash cards and a white board to accomplish the desired goal. I make use of Total Physical Response and Communicative Approach to better convey the knowledge to my student.
I am always polite to my students and I'm patient with them. I pay attention to every detail in my academic environment.
I am always polite to my students and I'm patient with them. I pay attention to every detail in my academic environment.
03. Teaching is my passion and hobby, so I am super lucky to have a job in education. I am understanding, patient, and aware of how to talk to beginner students. During a lesson, I focus on you and your abilities.
Your learning needs will be met through goal making, proper preparation, and teaching. During a lesson I will incorporate conversation, reading, writing, and evaluation. We will use fun and interesting digital material, in accordance with personal needs/interests.
04. I am fully qualified to teach ___ , and my qualifications include specialisation in teaching students online as well as teaching ____. I've been teaching ____ for 2 years now, and ____ for many more years.
05. Teaching is my thing! I am very patient, flexible and open-minded. I encourage my students to ask questions, take risks and overcome the fear of making mistakes as this is part of the learning process. All levels are welcome (we will start from scratch if need be).
06. My goal as your teacher is to improve your_____ skills! I have many topics of interest that we can talk about. I'm an outspoken person and a good listener. During our classes, I'll pay attention to your issues/needs/difficulties, always taking notes on them to be discussed during each class and teaching the techniques to fix them.
07. I have experience teaching students of all ages and backgrounds, from complete beginners to advanced students. I love to motivate my students and make learning a comfortable and enjoyable experience. I always aim to make my classes comfortable and give my students the opportunity to express themselves and have more talk time, so they can build confidence and get to improve their ____ skills. I try to make my lessons practical, as well as personalizing them to each student.
08. I have been working with people of different backgrounds, ages and cultural origins for over 15 years. As a teacher I value my students and appreciate their trust. I believe that building rapport and providing a comfortable but challenging enough environment for their growth is my main responsibility.
09. I am really focused on building as much confidence with my students as I can. I have seen a lot of my students get frustrated during classes and as a teacher, I want to make sure that you feel relaxed and comfortable speaking a language. We can do this together!
10. I always try my best to make sure that my students are enjoying themselves while practicing and learning _____! I aim to make my classes as fun and relaxing as possible. If you have any questions about my lessons, please ask me – I'd be happy to answer. I enjoy being a teacher because I like helping people. I think teaching is one of the most rewarding jobs a person could do, especially when I get to see all of the amazing progress my students make!
11. I am kind and patient, I take a lot of pride in helping others to learn ______ and have a lot of experience teaching online.
I have been teaching ______ for over 9 years now and am always studying and working to improve myself as a teacher.
I always create material suited towards my students interest and abilities, therefor creating a fun and interactive lesson and ensuring that the student will benefit as much as possible from my teaching.
I have a vast experience teaching both adults and children and I specialise in_____, Exam and interview preparation and general _____.
More Teacher About Me Examples are coming soon…