20+ Rover About Me Examples to Copy & Paste
Presenting yourself as a pet lover and build instant trust can be more difficult than it sounds. Because of that we decided to help you tell the world what type of sitter you are by creating these cool Rover About Me Examples in one list. 
You are probably familiar with our Copy & Paste blog posts so, without further ado, let's see our well crafted Rover About Me Examples.
Legend for Rover About Me Examples:
(DN) – Dog name
(SN) – Sitter Name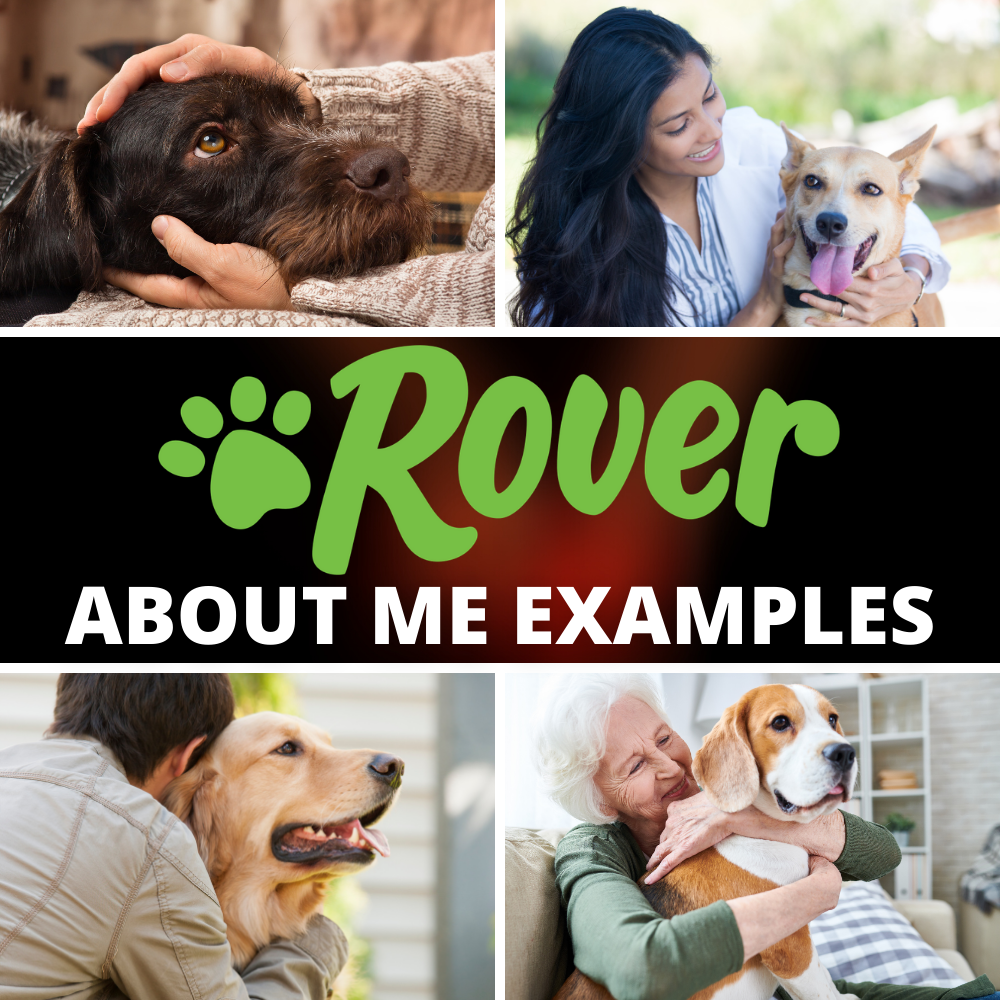 20+ Rover About Me Examples
01. My name is (SN). I've had pets my entire life and for the past three years, I've started caring for others in addition to my own. I have experience caring for dogs with special needs, and of all different sizes and breeds.
I'm not currently working, so my full time job would be caring for your pet! Daycare drop off and pickup hours are between 7 am and 7 pm. Any time after 7 pm would need to be booked as boarding and pickup for the following morning. I offer extended stays as well.
I live in an apartment with the dog park on my same floor, so lots of running around and play time staying here with me and my pet! He is very social and loves to have company, friendly to other dogs and shares toys.
02. If you have an athletic or active dog, we are the hosts for you!!! Trips to parks (on and off leash), running the trails, and swimming in a Lake will happen every day. If your dog is less active, we can bring our activity level to where your dog is most happy and comfortable.
03. Hi there! My name is (SN) and any dog I've met I have loved like my own! Growing up, I had my German Shepherd, my two Chihuahuas, and my cat. I also helped my parents with their pet sitting business in (City). From pet sitting, long or short walks, boarding and of course taking care of our own pets, I've got experience with it all! I've also administered medication to dogs of all ages and sizes. Our pups were rescued as well, with little training, so teaching them tricks was always a fun time!
04. Im (SN), lover of all pets, young and old, big and small. We can do walks, hikes, swimming, even to a play day at the park, I am sure I will pamper your pooch. I Live on the East Side in a house with a fenced yard and friendly neighbours!


For me, it's their stay, their way! They lead me on their walks, so I allow them to safely do what they want, within reason of course. I might even bring them along for a walk request and make a new friend! Pet stores are a given.

Any specific requests for them? Let me know! I allow them on my bed and couch, unless you prefer them not to. I always keep the water bowl full and pets happy and healthy. Allow me to meet yall and lets play fetch! I do board only one family pack at a time. I'll even give them a bath if you want! Just bring their shampoo if they have sensitive skin!
05. Hey there – my name is (SN), and I've taken care of dogs my whole life. I am an experienced sitter who you can trust to take amazing care of your pup. I take any (and all) opportunities to snuggle and go on fun adventures with dogs. Some people have told me I'm a dog whisperer at times… I have yet to prove them wrong. – One of our most copied Rover About Me Examples since publishing.
I will love on your pooch with everything I have. I am incredibly reliable, trustworthy, and flexible. I wish I could have a dog of my own, but due to frequent traveling, it's sadly not the right time for me. I love having the opportunity through Rover. Any and all instructions you leave for me will be followed with the utmost care to keep your little buddy happy!
06. I've been working for rover almost 4 years now and have gotten to meet some wonderful people and pups along the way! My main option on here is dog boarding but I also do drop ins and house sitting! I was a vet tech for a little over a year so I have quite a medical background under my belt as well. I do work full time at a co working doggy daycare but I only work mornings and typically leave my afternoons to my rover clients!

In the end I really love growing with my pupper parents and being a part of their life. I've grown to meet so many people through dog sitting and i couldn't be happier with what I do at the end of the day. I'm very experienced in animal care and would love the opportunity to grow a bond with you.

I do have 2 small pups of my own that are my world and they could definitely tell you how spoiled they are in life. You babe wouldn't be any different, loving them as if they were my own! 💜 If you have any questions don't be afraid to shoot me a message and ask away.
07. Current dog owner looking to care for other small dogs (30 lb Max) at my home. Ten years retired and proud owner of (DN) my sweet little chihuahua. I've been a dog owner for the last 20 plus years. I have also cared those belonging to family and friends on many occasions.

I have a large gated backyard that your dog will enjoy. I spend lots of time outside gardening, so all dogs will get plenty outdoor time. My days start early, so drop off and pickup times are pretty flexible. Being that my dog is really small I will only be caring for other small dogs. I look forward to welcoming and caring for your sweet one too.
08. Hello, my name is (SN). I have been a fur mom for 20 years and I truly love spending time with dogs. Some call me the dog whisperer but I credit my dog attraction success by understanding that "it's the dogs world and I'm just living in it".

Dogs come first in my house. I'm always excited to take my dogs on a hike, walk or puppy play date. I live in a dog friendly apt complex with a fenced dog park. I also have a tiny personal fenced yard which is perfect for dogs to sunbathe in. I have sat numerous dogs both young and old and enjoy pup slumber parties. If your pup needs a bath, I am willing to scrub them in the tub. I am also known to make homemade dog treats. Let your dog be spoiled by me!
09. I've had dogs for over 15 years and currently have a very friendly chihuahua named (DN) who loves to play. I've cared for puppies and for senior dogs with problems such as blindness and arthritis. I'm able to give them any medication required. I work at home full time as a technical support manager.
I'm able to give your dog all the attention needed, and they would never be unattended. Feel free to bring their favourite toys or let them choose from our selection. I have an 1100 sqft apartment with stone floors (accidents happen and that's not a problem!), and I have a back yard for leash walks and fresh air. Just tell me about their usual day and we'll make it happen! Looking forward to meeting your furry family member, and I'll love them like they're my own!
10. I work from home so your baby will get non stop attention. We only board small to medium size dogs (Less than 30 pounds, some rare exceptions, feel free to ask). I specialize and care for lots of puppies, elderly dogs that need extra medical care. Also dogs that are extremely shy and not usually good with other dogs.

I have worked with a lot of foster dogs who were abused and need extra attention. They will feel safe and get some social therapy along the way. Dogs usually get at least once daily and if you wish and get lots of outdoor supervised playtime in our extremely secure backyard. Please bring a harness and your dogs food.

All dogs are separated at feeding times of 8 am and 4 pm, unless you feed more and have a slightly different schedule. I am used to serving regular dry, wet, mixtures, raw foods, and administering medications including injectables. 
More Rover About Me Examples on the next page…