Old Bazaar Skopje – (Walking Map Included)
The Old Bazaar in Skopje is an area that is the largest and best collection of Ottoman architecture in Macedonia.  It was an important center of commerce during Ottoman times when it enjoyed its peak importance.
Ottoman heritage is predominant here. There are roughly 30 mosques, three caravanserais, and a few hamams (Turkish baths) still standing. Despite the earthquakes and various other disasters Skopje has seen, the neighborhood is in very good shape.
The Old Bazaar, also called Carsija is the Turkish old town of Skopje. It is one of the oldest and largest marketplaces in the Balkans, and it has been Skopje's center for trade since at least the 12th century.

The area is home to mosques, türbes (mausoleum tombs), converted hammams (bathhouses) and churches. The Museum of Macedonia and the Museum of Modern Art is also located here. You will find everything here form small souvenirs and copperware, to folk costumes and jewelry. Strolling the shops of the Old Bazaar is a must-do for anyone visiting Skopje.
Above all, Carsija has various traditional restaurants and coffee houses where you can try Turkish coffee. Make sure you don't miss Destan's traditional kebab either! On Friday and Saturday nights Carsija becomes even more lively with youngsters due to some great bars in the area. Check out Menada Bar and also the Old Town Brewery (Пивница Стар Град).
Old Bazaar Skopje Walking Map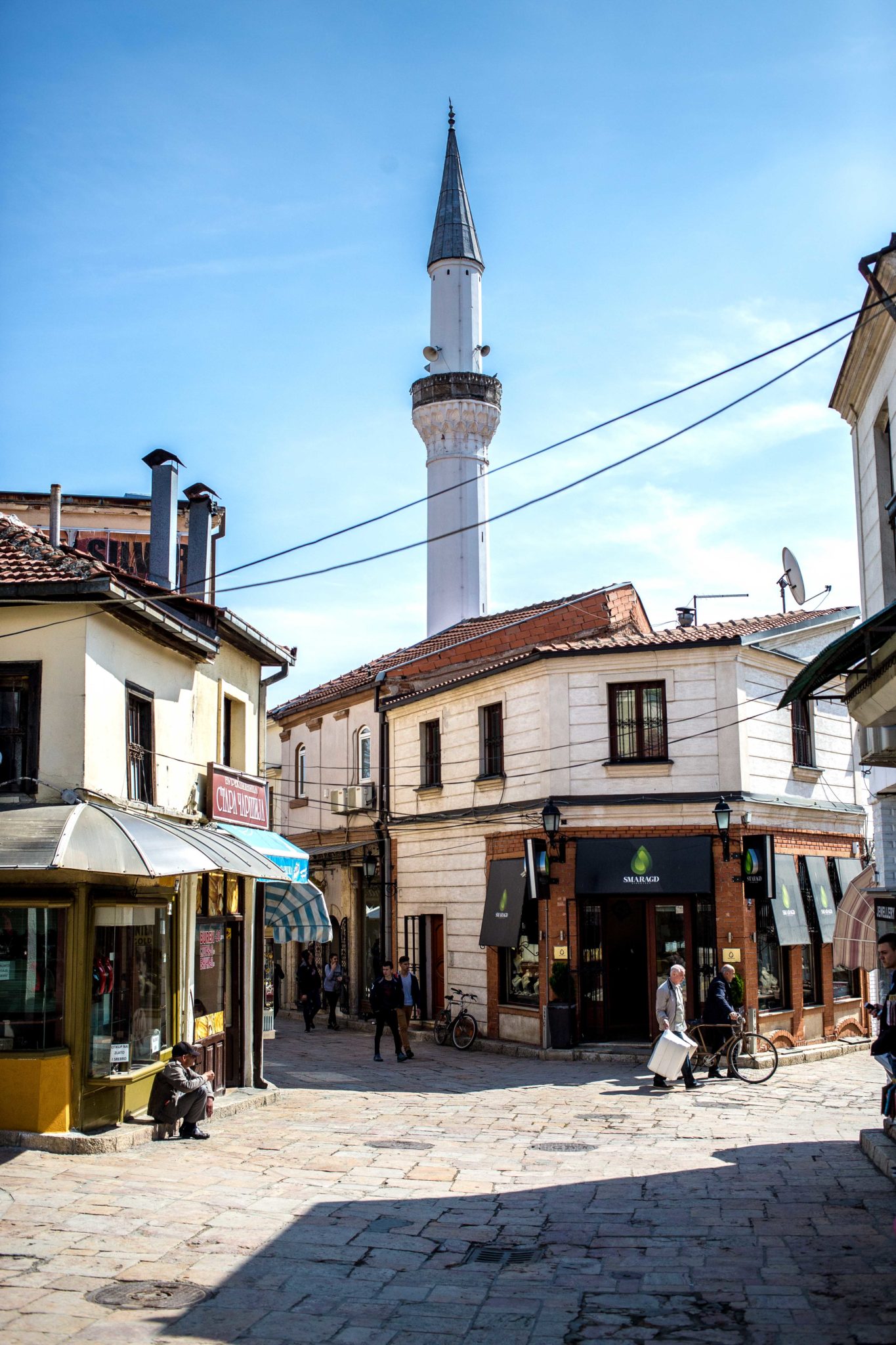 Mustafa Pasha Mosque – The jewel of the Old Bazaar in Skopje
Standing on a plateau at the very top of Skopje's Old Bazaar, the Mustafa Pasha Mosque is a working mosque. Although the mosque dates to 1492, it was heavily restored over a three-year period from 2008 to 2011.
Visit the Sveti Spas Church in the Old Bazaar in Skopje
This church is a must visit when you are exploring the Old Bazaar in Skopje. Submerged 2m underground (Ottomans banned churches from being taller than mosques), Sveti Spas dates from the 14th century and is the most historically important in Skopje.  This small church is notable for its unusual wooden bell tower. The church is also the final resting place of the revolutionary martyr, Goce Delcev.