FOOD in MACEDONIA (North) 8 MIND BLOWING recipes included
Macedonian dishes are incredibly tasty and good news is that food in Macedonia is very affordable, but What to eat in Macedonia?
We highly recommend you to try traditional Macedonian food in a 'kafana' (local traditional restaurant) while you are visiting the country.
Food in Macedonia brings people together! When Macedonians sit down for a meal it usually means a lot of people and a lot of food.
Wondering what to eat in Macedonia?
This is our guide to eating in Macedonia in which we also collected our well tested favorite restaurants in Skopje.
Update: We have included some Macedonian Recipes, you will find them under every dish.
Macedonian Appetizers and Rakija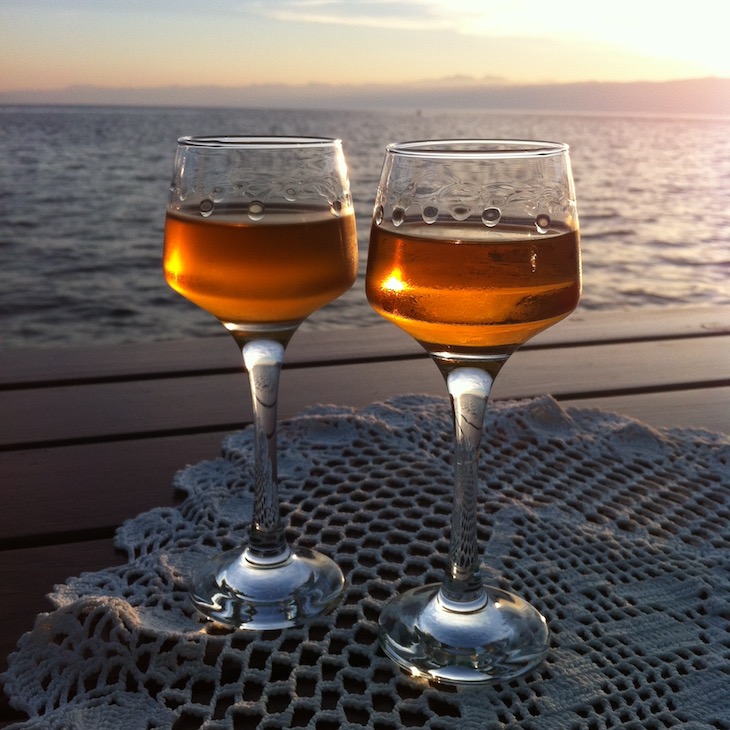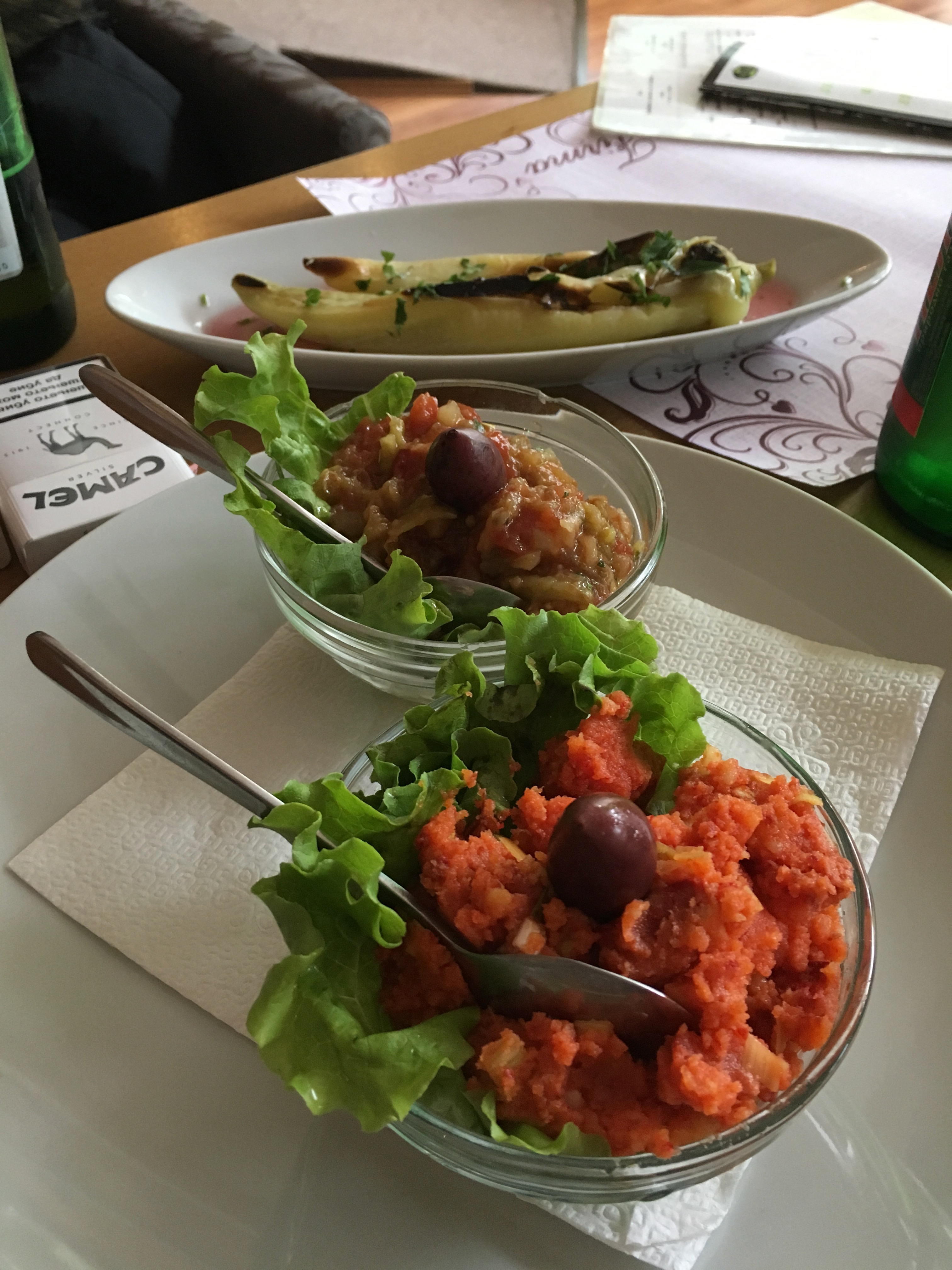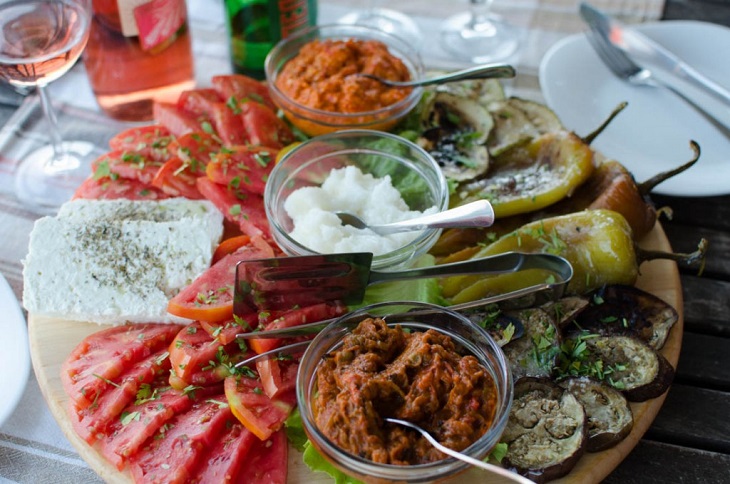 Macedonian lunch or dinner always starts with the so called 'meze'. This is when locals order several different traditional Macedonian appetizers accompanied by the famous national drink called rakija.
Good news for the vegetarians that Macedonian starters are mostly fresh salads, cheeses or light dishes made of veggies.
While some of the appetizers are seasonal, some are always present on the table. Such as the so called 'sirene',  a type of brined cheese or ajvar,  a seriously addictive relish (spread, preserve) made primarily with eggplants and roasted red,  sweet peppers.
Generally said summer meze is predominantly fresh salads (shopska salata, makedonska salata etc.) and winter meze is some kind of cooked vegetable spread – such as pindjur (pepper, garlic paste), makalo (mashed potato, leek, garlic), kisela zelka (pickled fermented cabbage) or tursia (a selection of pickles).
Tip: Order a couple of different appetizers and don't forget to order and sip a glass of rakija with your "meze"!
What to eat in Macedonia as Main Dish
The main dish of a meal in Macedonia can be various and can be with or without meat, can be cooked, stewed, baked or grilled.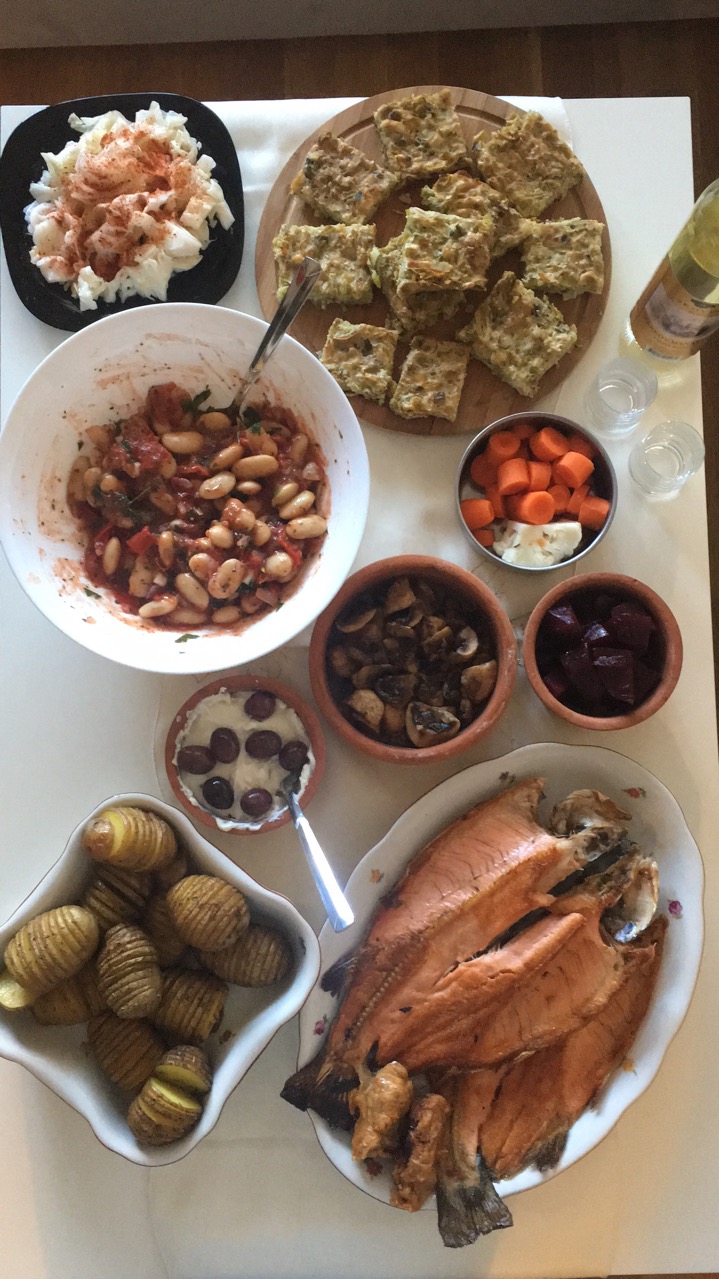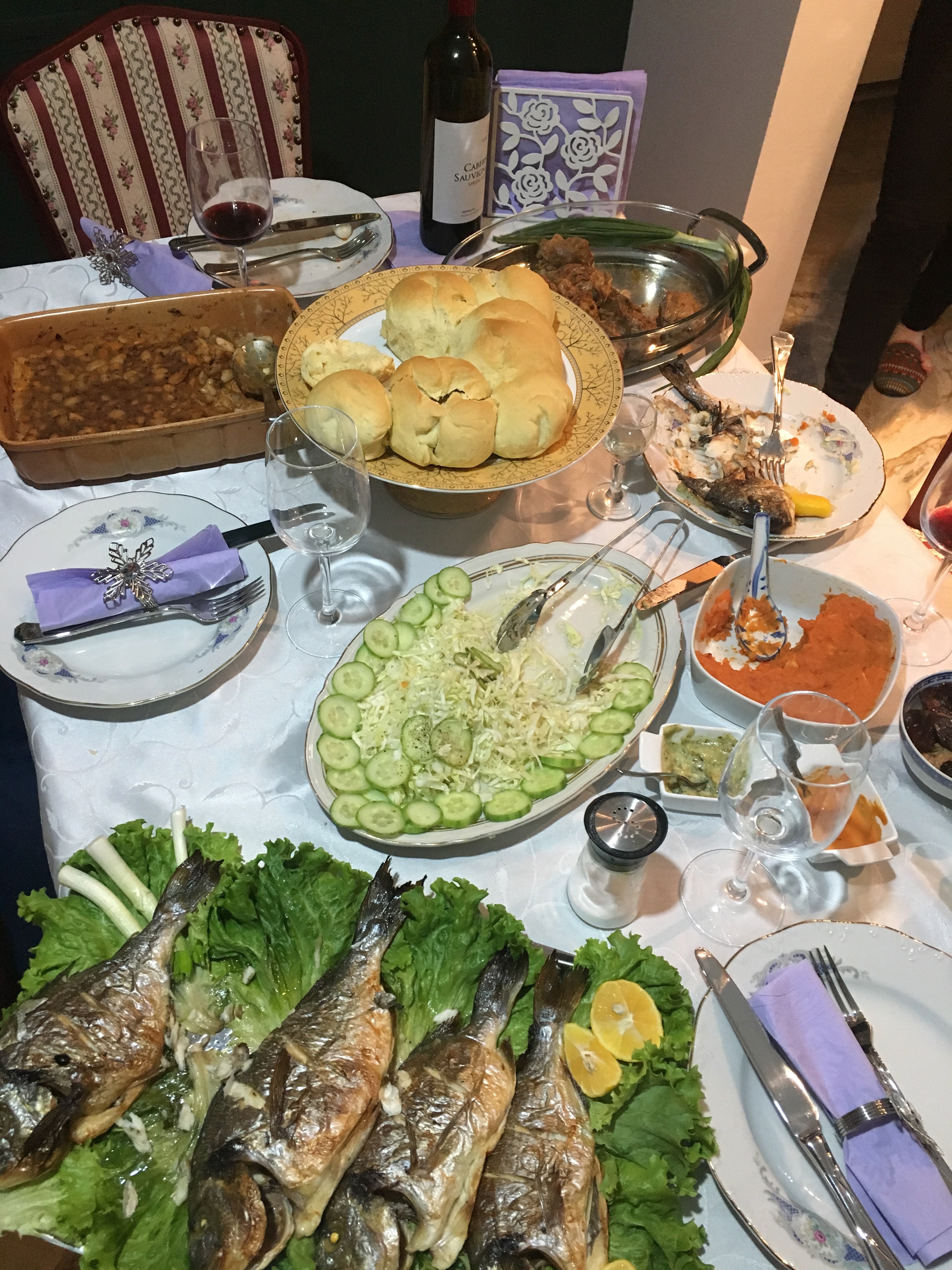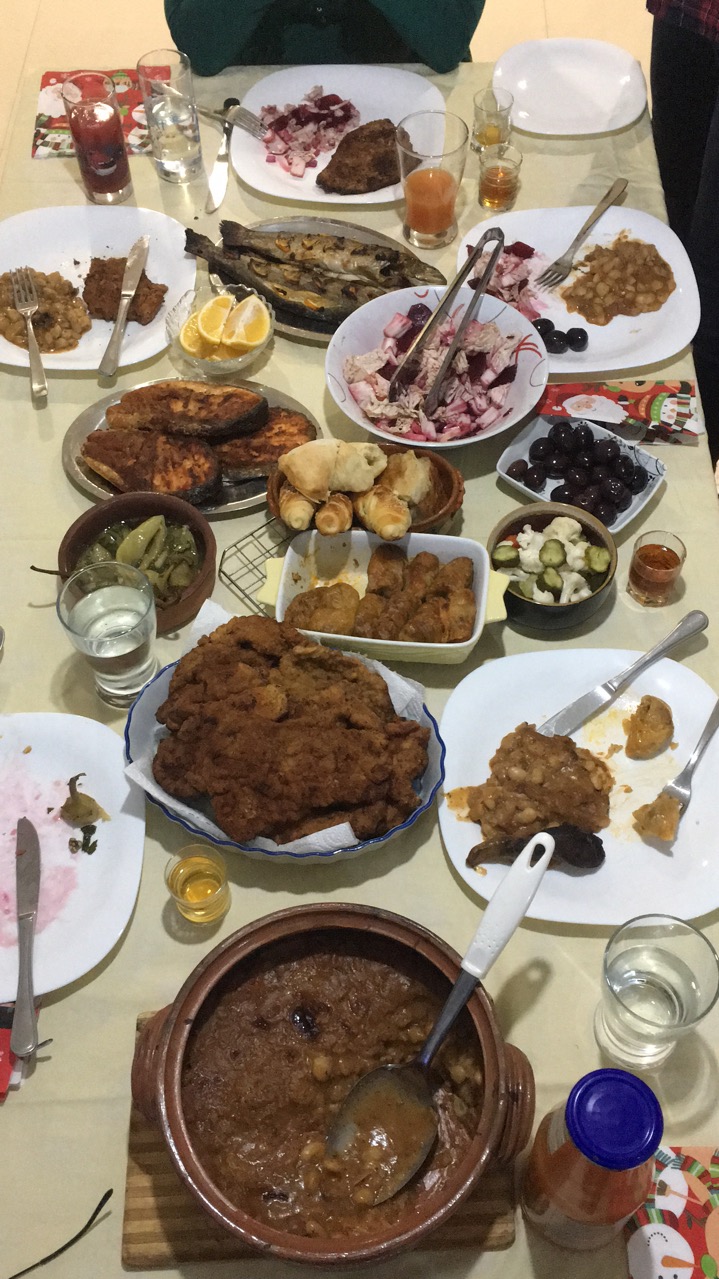 Most famous FOOD in MACEDONIA – Tavce Gravce
Tavce gravce is the national dish of Macedonia and it might come as a surprise that it is vegan (most of the time). It is a bean stew, seasoned with garlic, onions and other spices giving it the true taste of Macedonian cuisine.
In most restaurants it is served vegan, and mostly when it is cooked at home many times meat is added as  such as sausages, pork ribs or bacon.
Tip: One of the oldest restaurants in Skopje is called Idadija. They have very low prices and excellent food. Tavce gravce is worth trying here. However don't expect much English.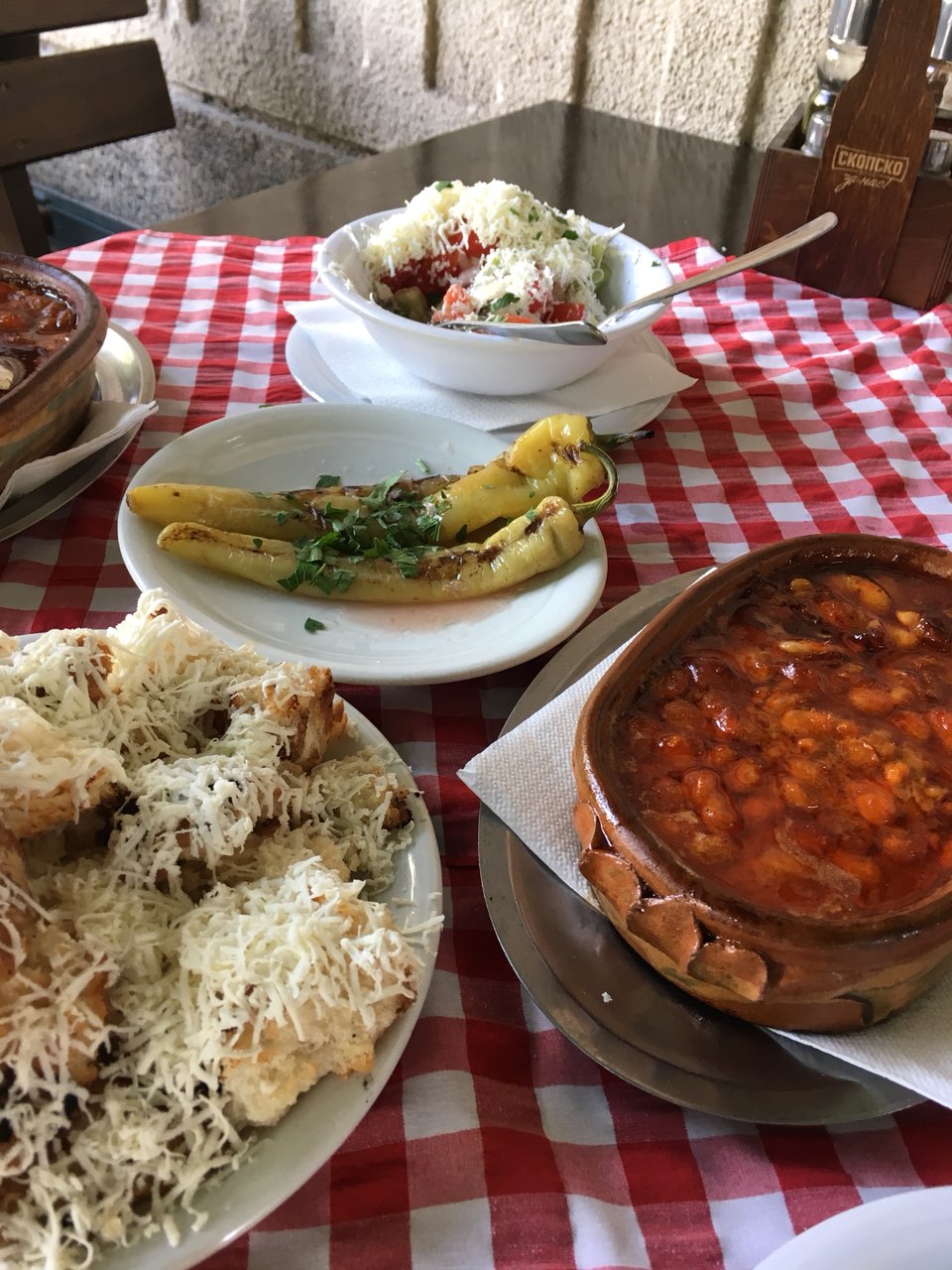 What to eat in Macedonia? GRILL!! or 'skara' in Macedonian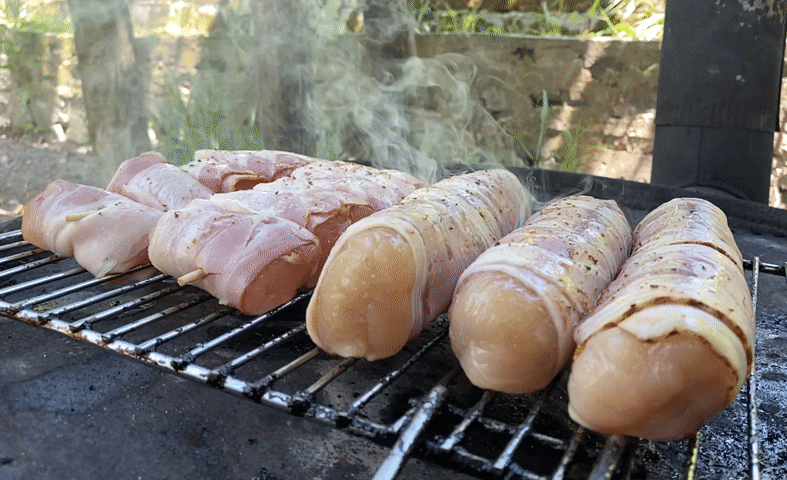 via Tripadvisor
One of the most popular types of Macedonian food is the skara or barbecue.  Walking along the streets of Skopje you can smell the irresistible grilled meat.
No tourist can leave the country without tasting one of the popular Macedonian food such as kebaps (small, bite size minced meat with garlic and different spices, served with bread and onions), pleskavica  (a burger filled with melted cheese served with a hot pepper, onions and french fries).
Tip: To sample one of the best skara in Skopje visit DM – Debar Maalo restaurant near the Bohemian area of Skopje.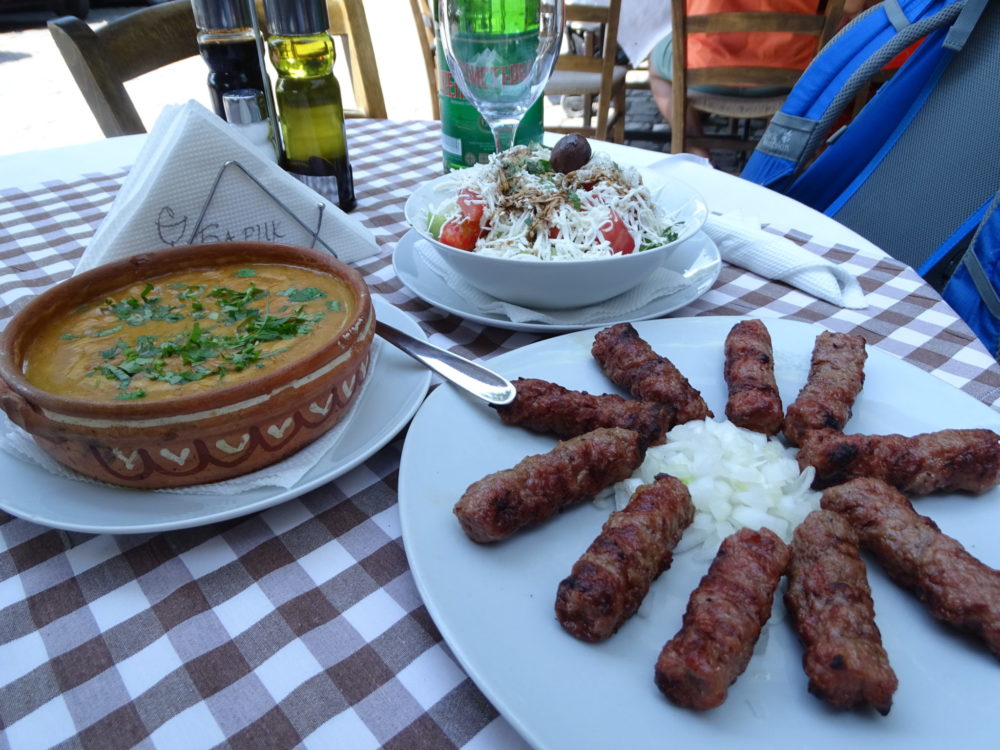 Trout, Carp and Seafood
Trout and carp both can be found in abundance in the Macedonian lakes and rivers. On the menu grilled trout, breaded carp and other seafood can always be found.
If you can get a chance to taste Carp from Ohrid, don't hesitate… it is AMAZING!
One of our favorite restaurants in Skopje is called Sidro Fish Restaurant, they serve fresh seafood as well delivered daily from Greece.
Tip:  Sidro Fish Restaurant, Nikola Rusinski 21, Skopje
Selsko Meso
Selsko Meso (means something like village style meat) is a Macedonian pork and mushroom dish. Typical ingredients include pork, onion, smoked meat, spices and mushrooms and is usually firstly stewed and then baked in a traditional clay pot. Order fresh bread with it!
Letna Mandza
Vegetarian meal that you can eat only in summer. It is a another simple dish made of tomatoes, peppers and eggs.
In some "Kafanas" this Macedonian food is called "Mish Mash"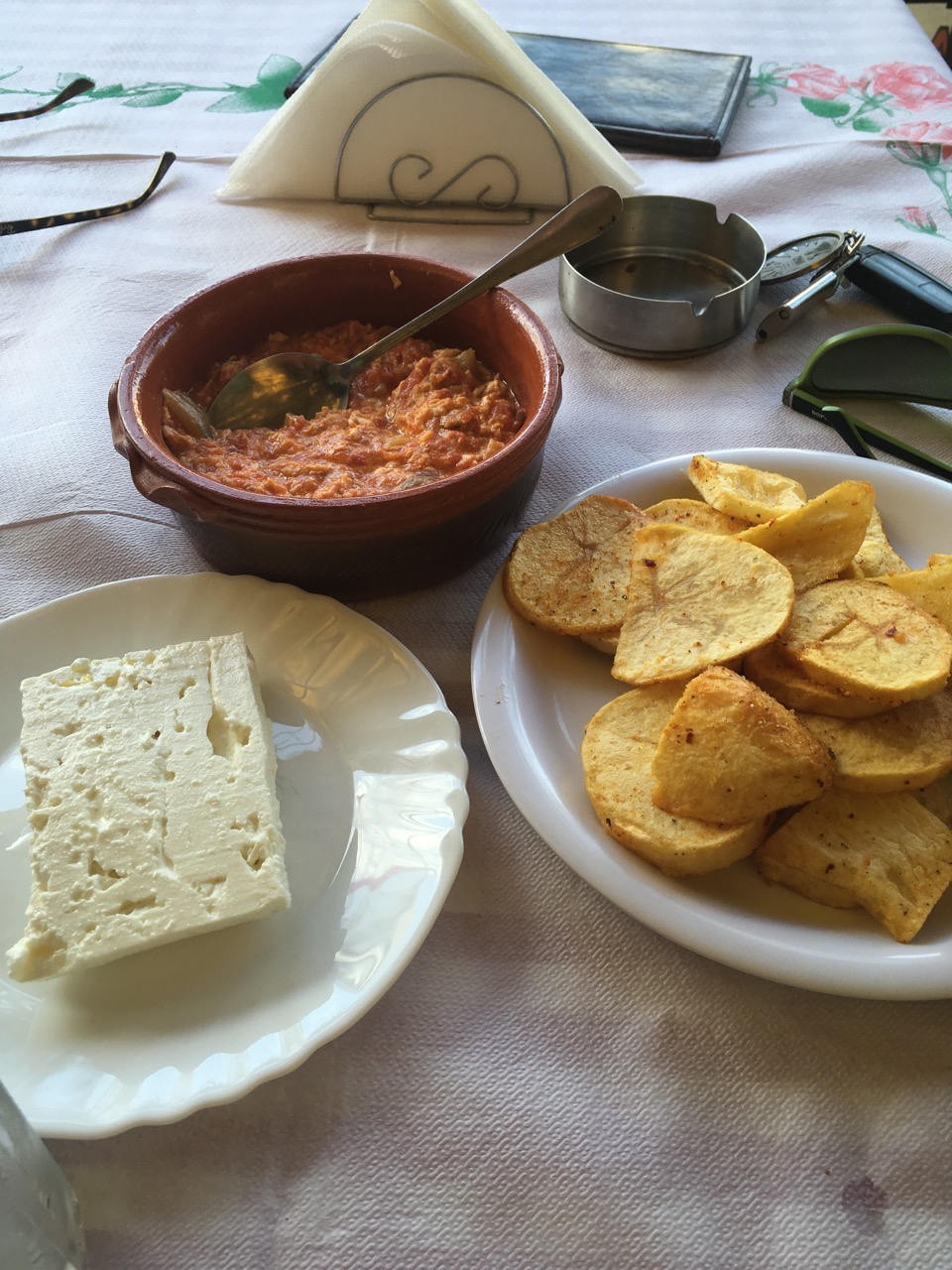 What to eat in Macedonia for breakfast? Macedonian Corba
Corba is the most popular breakfast in Macedonia. Usually there are three choices, "teleska corba" (veal stew), "ribna corba" (fish stew) or "ckembe corba" (tripe stew) and they are served with garlic sauce and fresh bread.
Tip: Gostlininca Dukat, Teodosij Gologanov 79, Skopje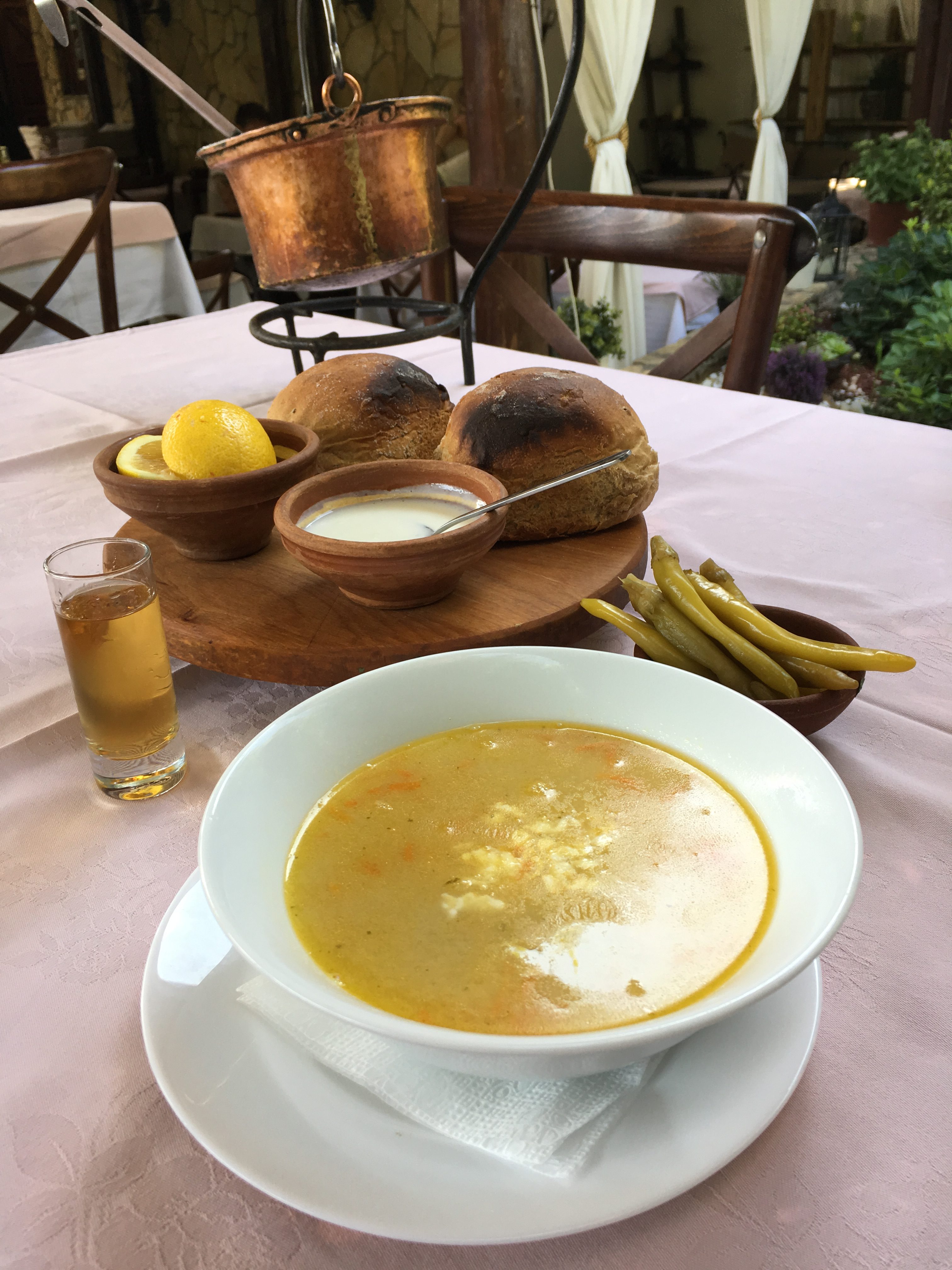 Pastries – Most popular FOOD in MACEDONIA
There are countless bakeries in Macedonia selling all kinds of sweet or savory pastries from early morning.
Just around our apartments in Skopje there are 5 bakeries.
Pastrmajlija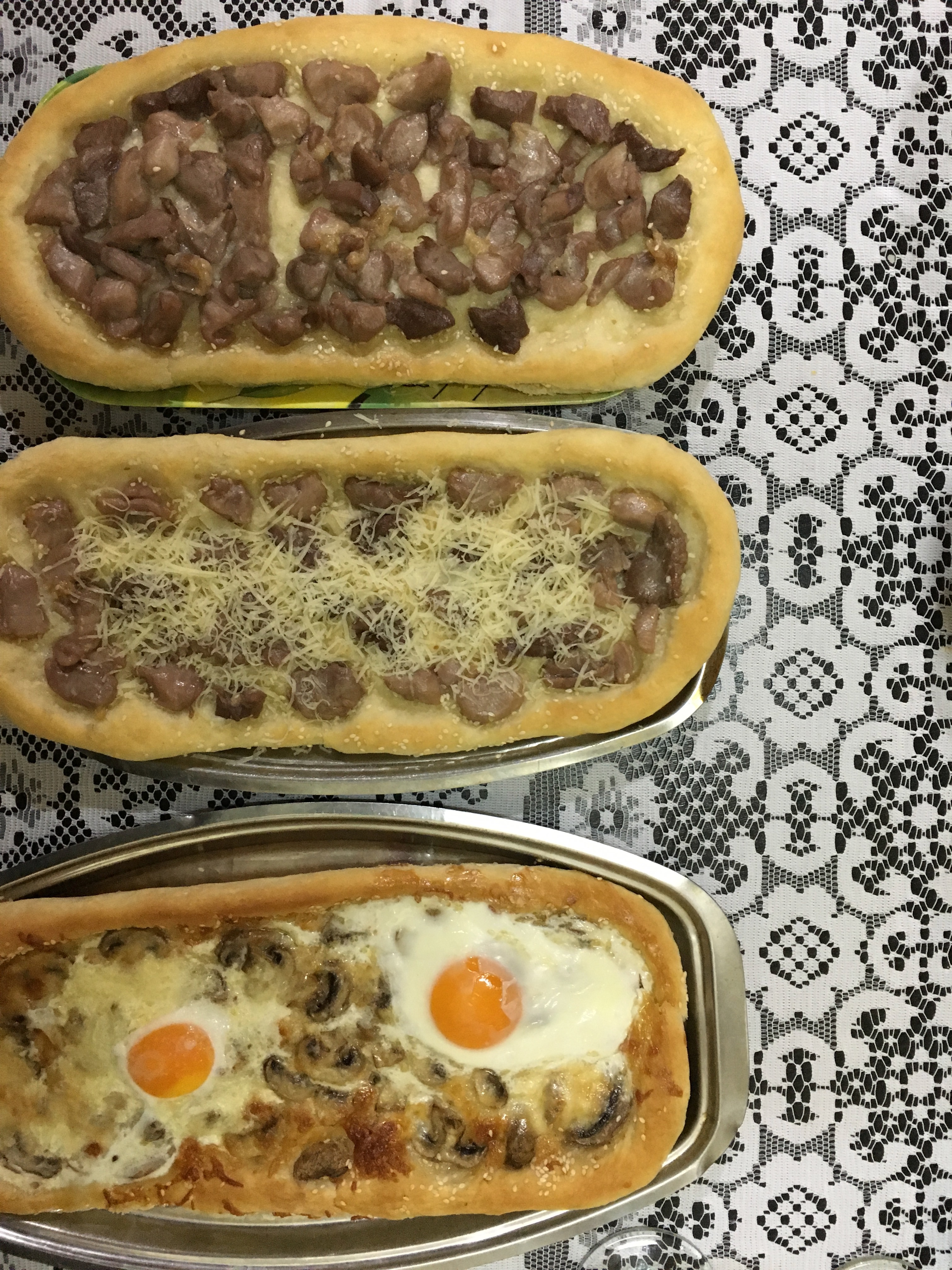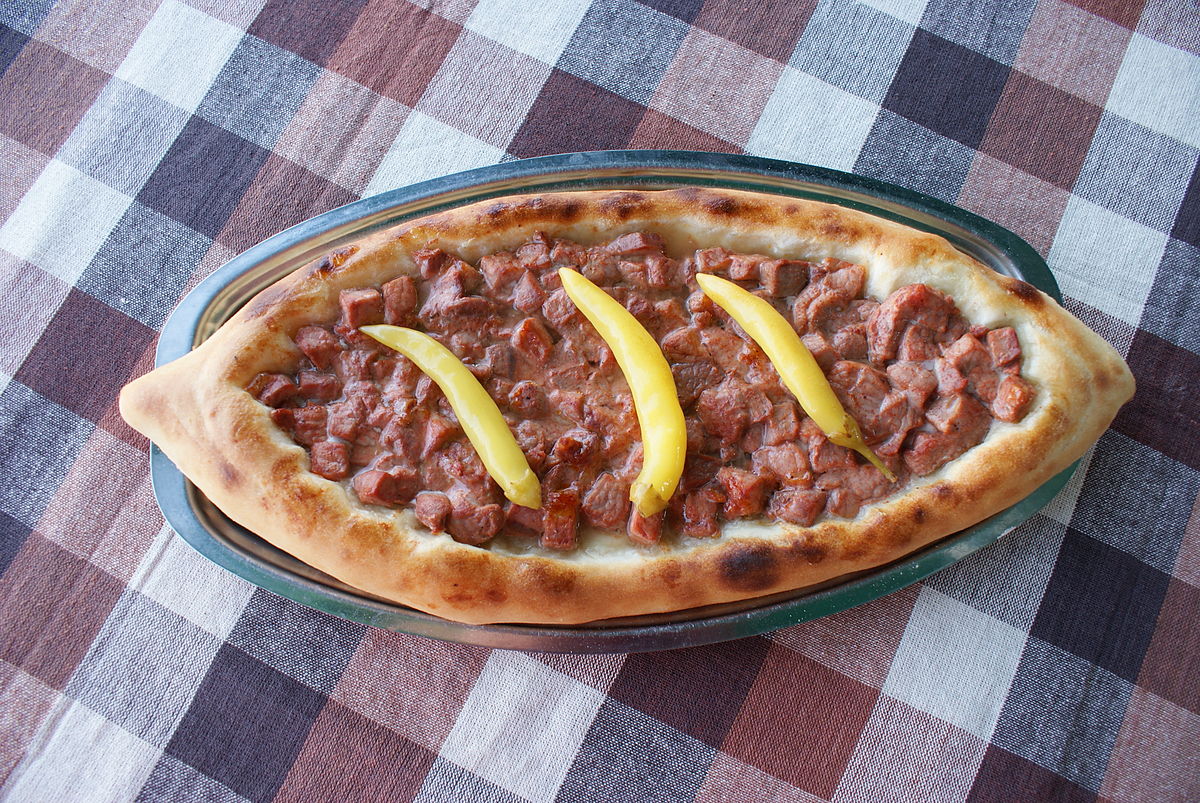 via wikipedia.org
Pastrmajlija is a Macedonian bread oval-shape pie with sliced meat cubes on top of it. In the winter Macedonians prepare it often at home. Excellent fresh out of the oven with a glass of red wine!
Macedonian Desserts
Macedonian sweets have a huge influence from oriental cuisine and desserts produced in Macedonia are typical to all the countries from the Balkans.
Desserts are playing very important role in the Macedonian Cuisine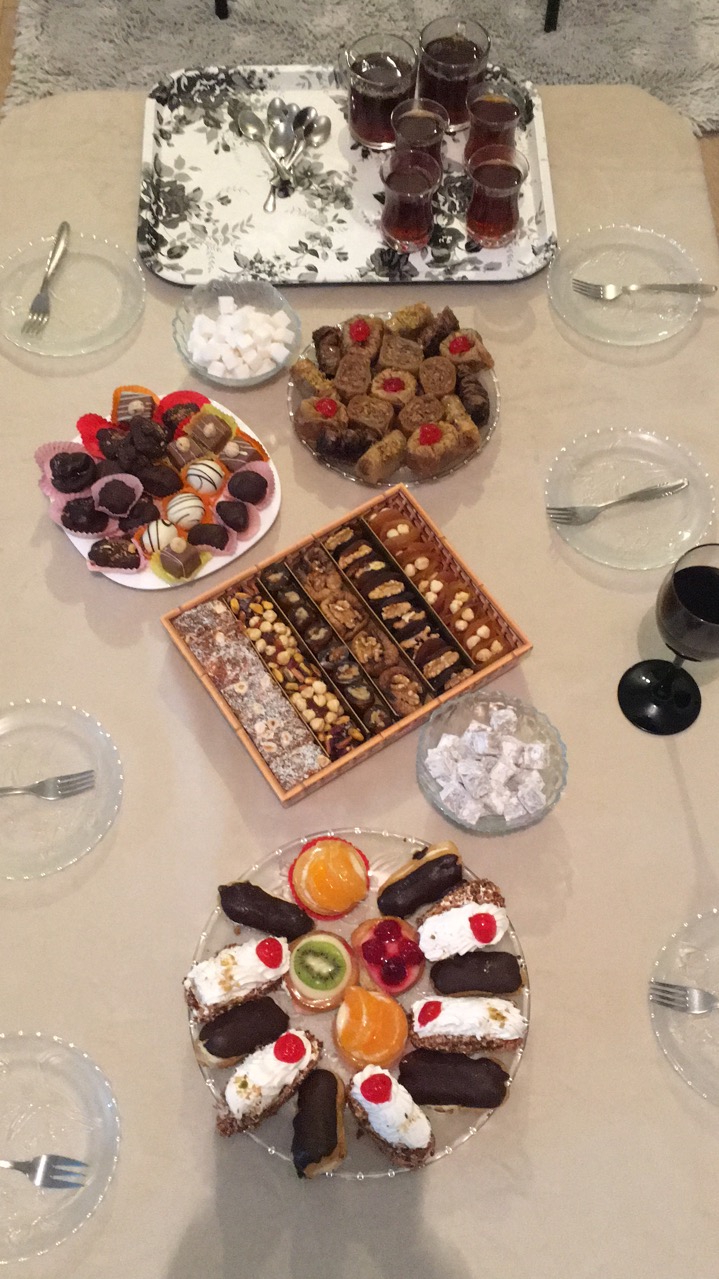 Trilece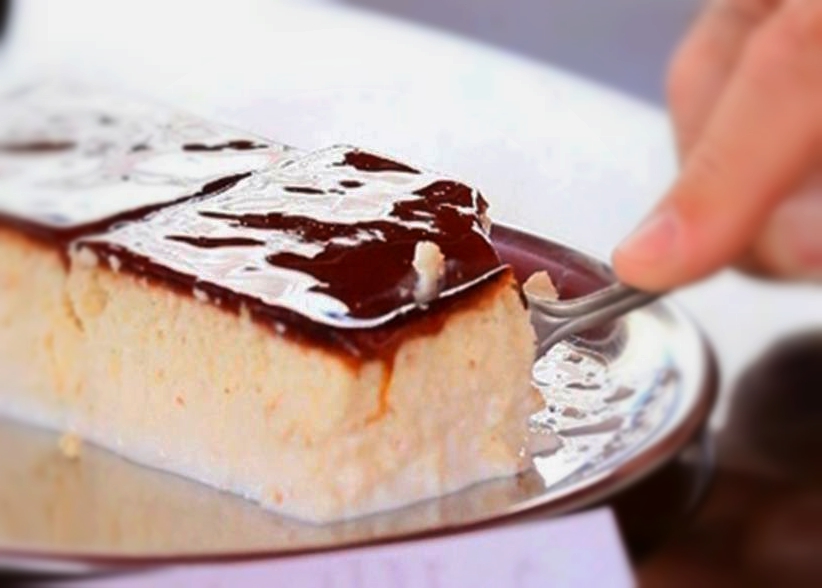 Trilece, an irresistible sponge cake with a creamy milk custard with three kinds of milk: condensed milk, evaporated milk and heavy cream.
Toplo ladno or Lava Cake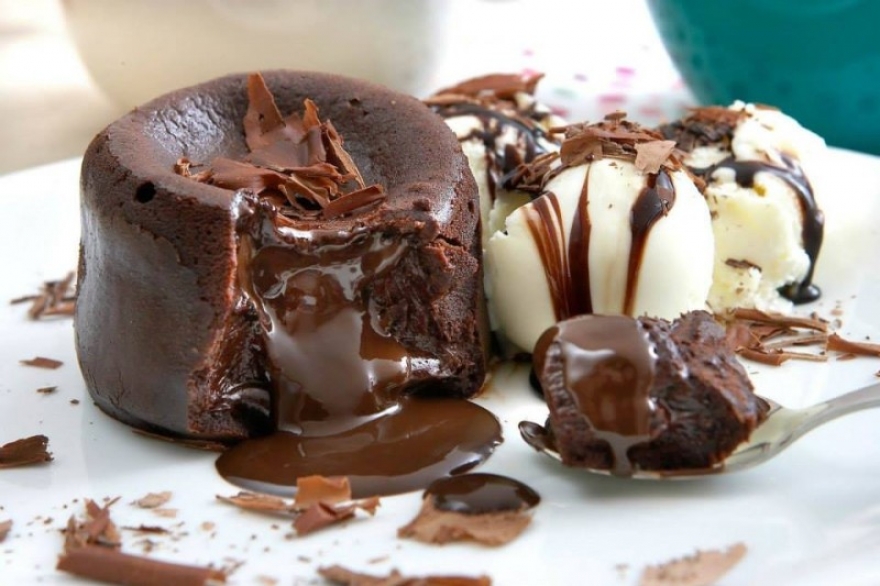 via skopjeinfo.mk
You can find Toplo-Ladno on every menu in Macedonia

International Press about FOOD in MACEDONIA
According to the Vogue, Macedonia is an upcoming foodie destination, so you might wanna consider visiting it sooner, before the emerging tourism rase up the prices.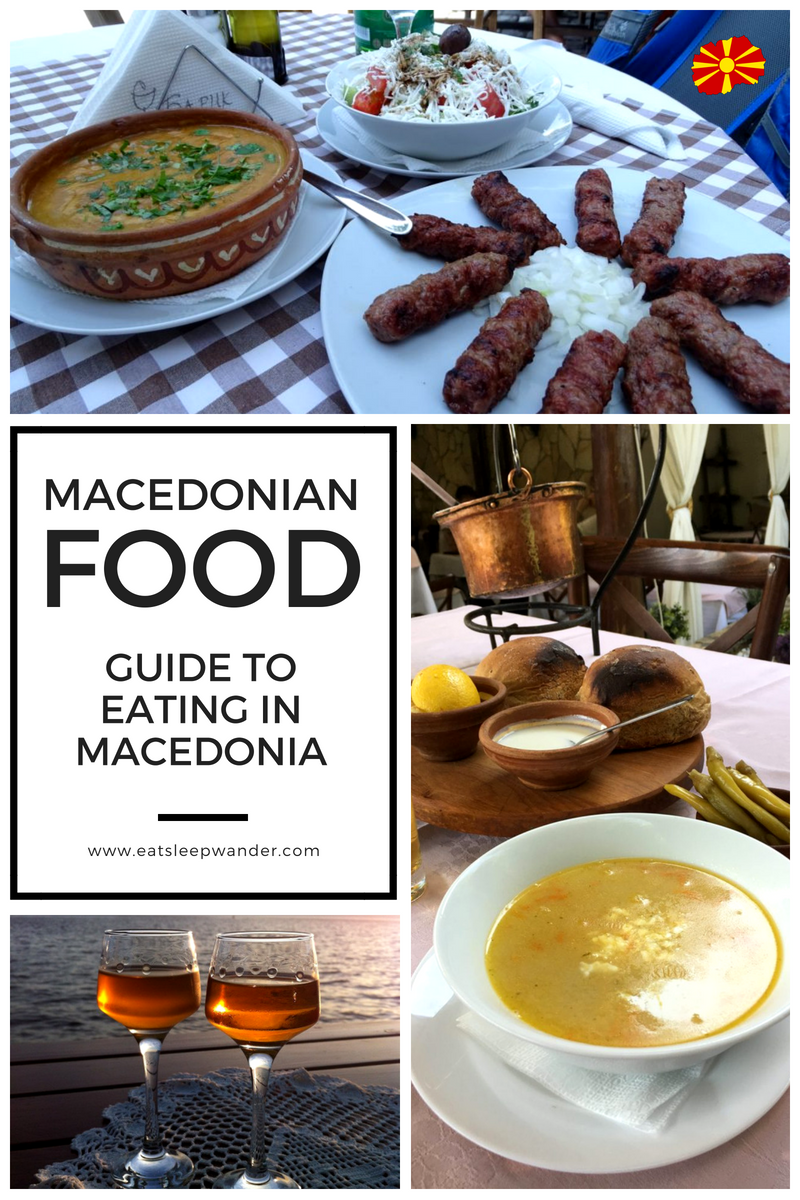 SaveSaveSaveSaveSaveSaveSaveSaveSaveSaveSaveSave