3 Hotel Style Shower Curtains for 2021
To cut it short and get to the things why you are here, scroll bellow and you will find our top 3 hotel style shower curtains for this year.
We prefer to change our curtains every 5-6 months because we have longer stays and they are getting moldy. Usually guests are not leaving them spread out after shower.
3 Hotel Style Shower Curtains for 2021
River Dream shower curtain brings fresh style and sophistication to your bathroom No need to buy shower curtain rings and dealing with them falling off the curtain. It allows you to hang the curtain easily and quickly. You don't even need to remove the shower rod. Because the built in flex ring pop right over it.
A clear window along the top lets light in and allows you to see out while maintaining privacy. Water repellent treatment can repel the water inside tub.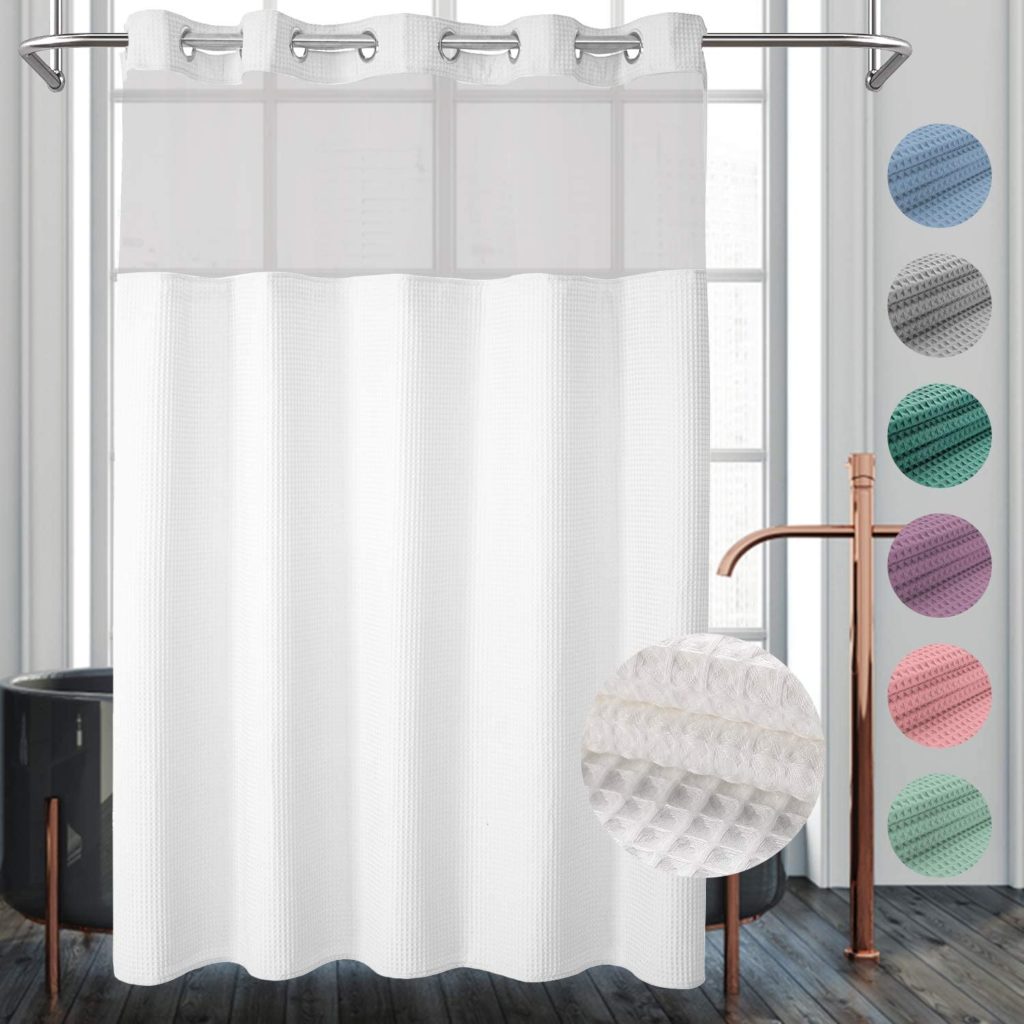 Prices Included : 1 x shower curtain and 1 x snap in liner
Measures: shower curtain 71″W x 74″H snap in liner 70′ W x 54'H
Color: White
Material: Cotton Blend
Machine washable
Buy it from Amazon
Create a spa-like bathroom environment with these luxurious fabric shower curtains. Featuring an attractive woven pattern, the curtains provide coverage to shower & bathtub openings. The classic style adds an upscale look & blends nicely with any bathroom decor.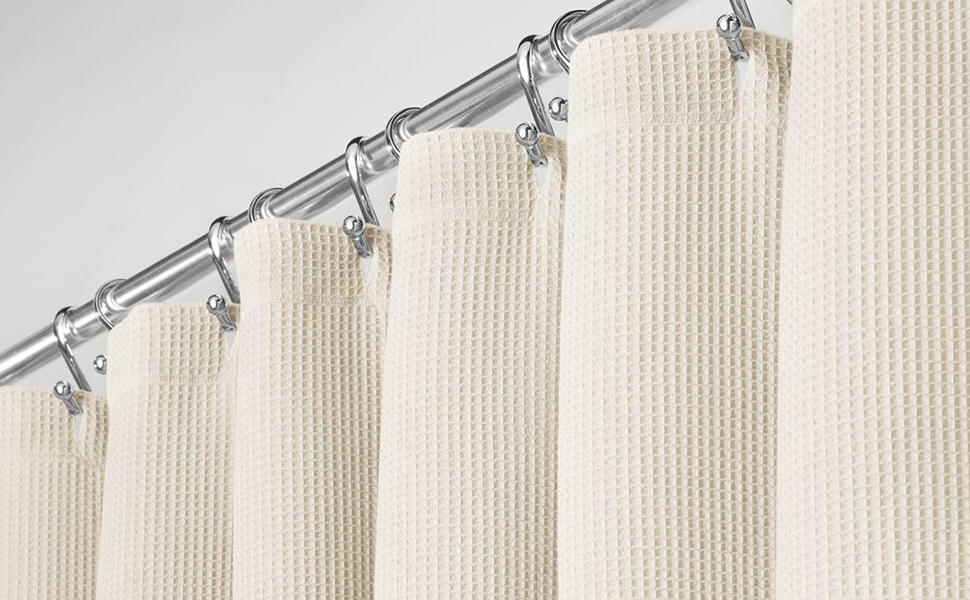 PREMIUM QUALITY: The tight weave provides a firm, smooth texture that is made to withstand damp, moisture-rich bathroom environments. They drape beautifully for a clean fresh look.
EASY CARE: Machine washable for effortless maintenance.
Buy it from Amazon
Providing privacy and decorative appeal, this fabric shower curtain can be used as a stand-alone piece or as an inner liner for extra leak protection.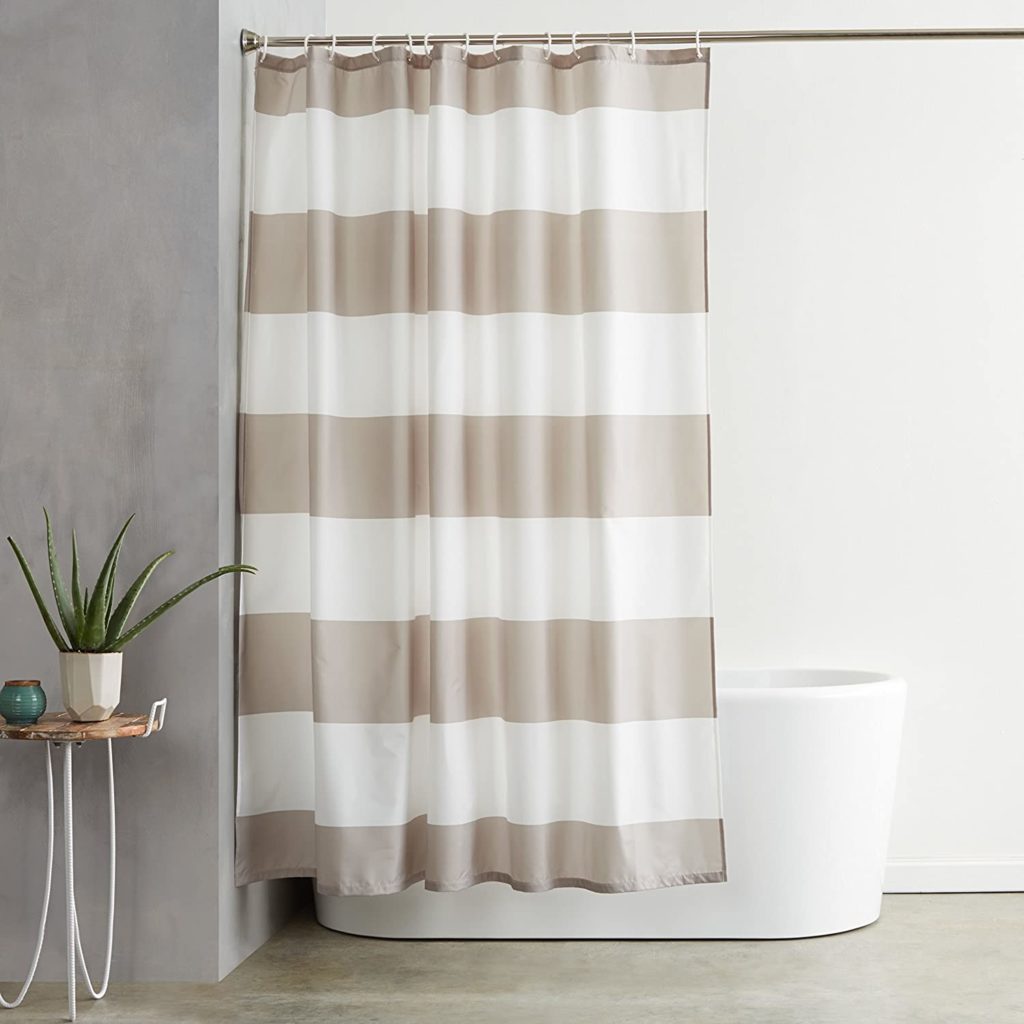 Made of resilient, washable 100% polyester, the shower curtain is machine washable and easy to clean. Multiple colors available.
The shower curtain measures 72 x 72 inches and includes a reinforced top with 12 rust-proof metal grommets to accommodate the included hooks.
Buy it from Amazon